Interstate Manufacturing Associates is proud to offer our specialty line of hinges for both indoor and outdoor application. Our proprietary hinge, known as the Boss Hinge, is a heavy duty hinge that is ideal for estate gates, aluminium doors, and much more. We offer a variety of Boss Hinge styles and models for even the most demanding of applications.
Since all of our hinge models are manufactured exclusively in-house by Interstate Manufacturing Associates, you can rest assured that our Boss Hinges are made of high quality materials, resulting in a durable construction. Additionally, all Boss Hinges are delivered to you straight from us — right in the United States of America. We are proud to offer the Boss Hinge for your indoor and outdoor applications.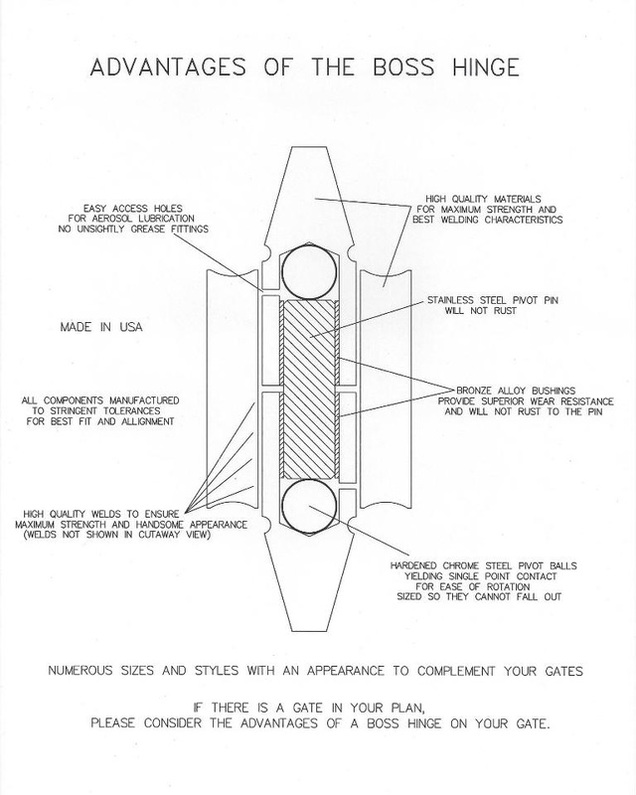 Sizes & Styles Available
Take a look at our variety of sizes, shapes, finishes, and styles to determine if there's a Boss Hinge that fits your particular need. If you're ready to order a Boss Hinge, contact us today to place an order.
Order Your Boss Hinge
Placing an order is easy! Simply reach out to us using our contact form and we will get in touch to help you with your Boss Hinge order.
Contact Us
H17 Model
3/4″ diameter barrel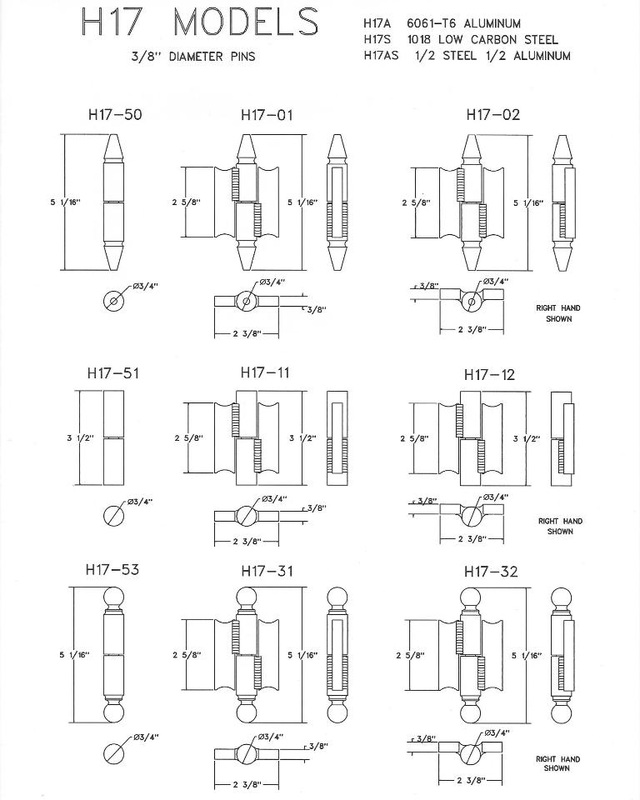 This smaller barrel hinge is ideal for garden gates, wine cellar entries, and similar smaller doors and gates where details are critical. Like the larger barrel styles, the H17 is available in 1018 low-carbon steel or 6061-T6 aluminum and boasts precision, corrosion resistant moving parts and easily accessible lubricating points for a lifetime of smooth operation.
H20 Model
1″ diameter barrel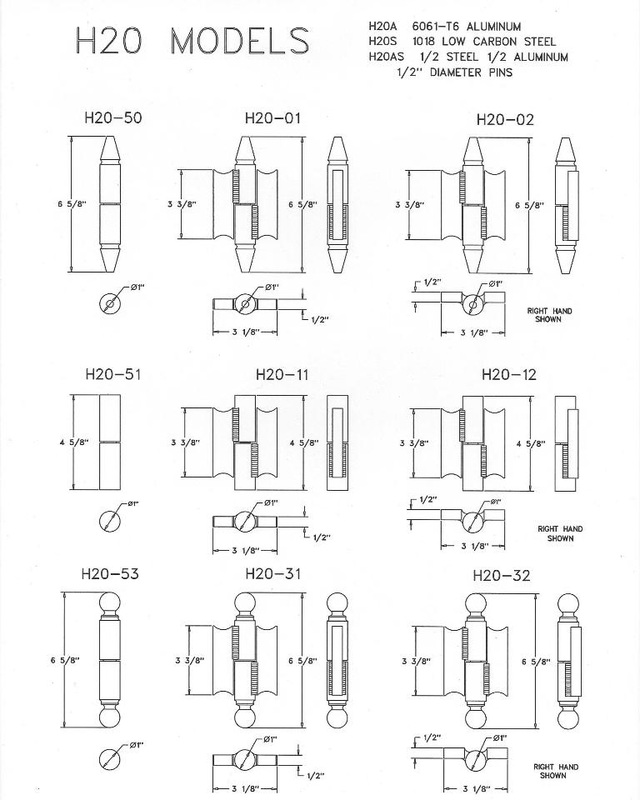 The H20 model is a scaled-up version of the H17, and is well suited for use on steel and aluminum doors or smaller driveway gates. As with the H17 and H30 models, it is available in either low-carbon steel or aluminum.
H30 Models
1 3/8″ diameter barrel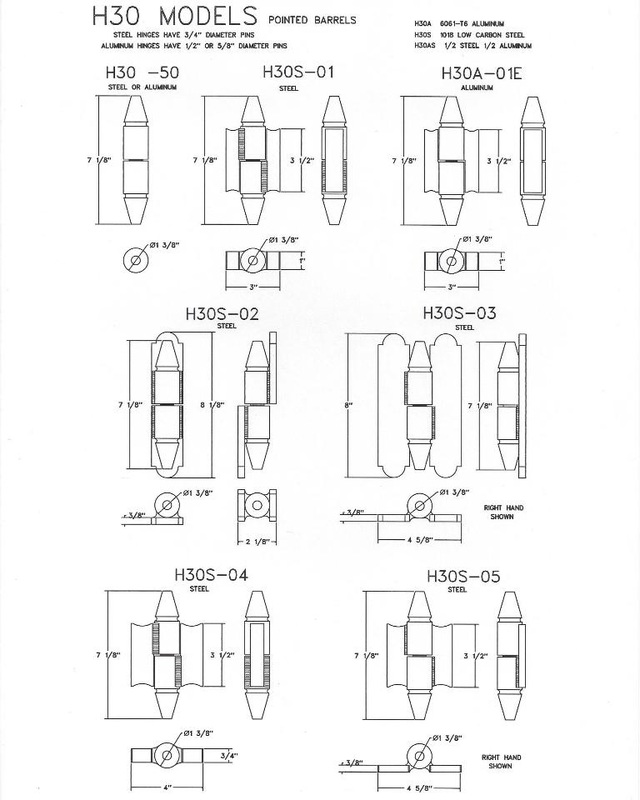 The H30 is our most popular model hinge, and sports a more robust but no less attractive design than the smaller models. The steel models have a larger pin diameter to support larger driveway or estate gates, and is offered in our broadest variety of tab options to mount to your gate. The aluminum models are made from extruded 6061-T6 aluminum for the greatest strength and durability.
H40 Models
1 3/4″ diameter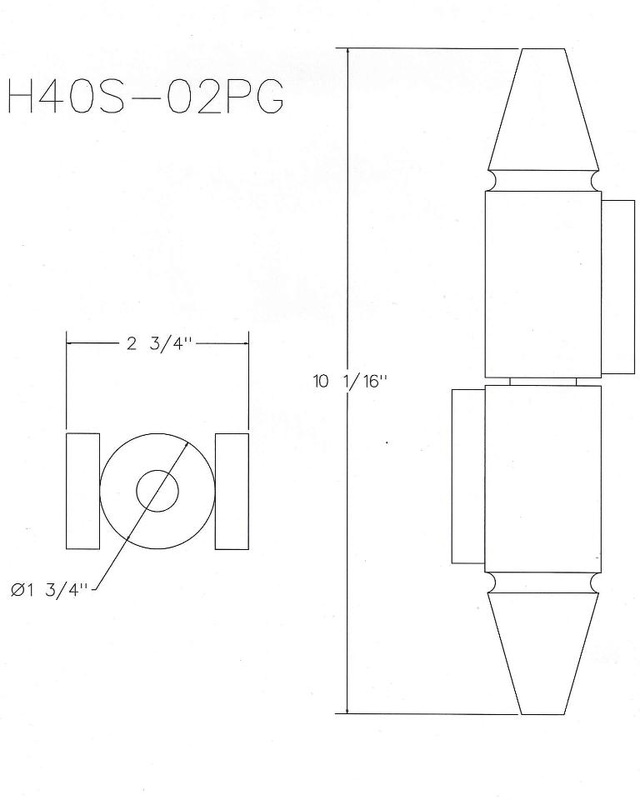 For the heaviest of gates, we offer the H40 series which pivots around a 1″ diameter pin, offering the most support of our standard lines. Contact us if you would like information regarding tab options beyond what is shown on our site.
Boss Hinge Block Models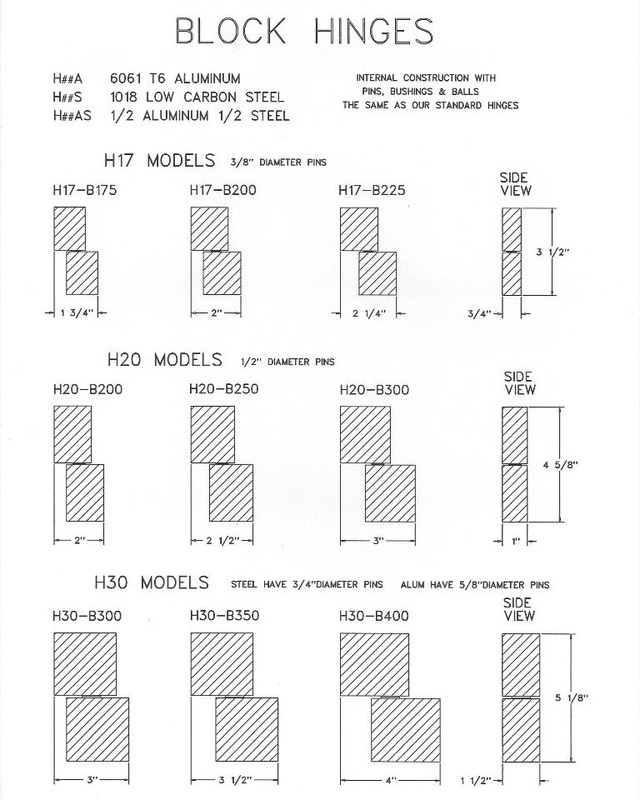 Block hinges are available in steel or aluminum in H17, H20, and H30 sizes. Although simple in appearance by itself, the block hinge style may be just the element you are looking for to complement certain gates.
Bolt-On Hinges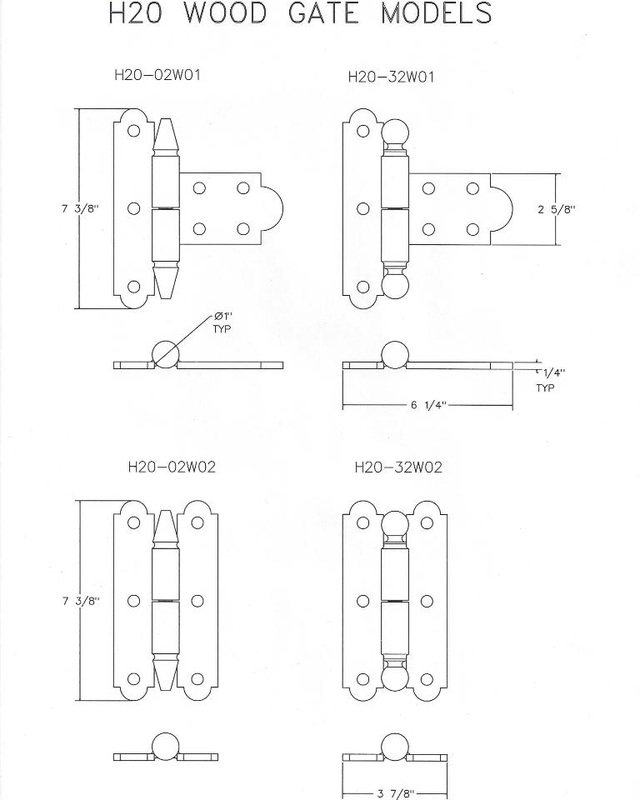 In addition to the hinges above, which are designed to be welded to a metal gate, we also offer hinges that can be bolted to your gate. This way, the quality of the Boss Hinge can be put to use on gates of nearly any material.
Order Your Boss Hinge
Placing an order is easy! Simply reach out to us using our contact form and we will get in touch to help you with your Boss Hinge order.
Contact Us